When you are going to buy a new Shaving Machine there are some factors that control your choices, in Matter of fact it varies from man to another. but in General, there are common things that every man would like to make sure that his new shaving machine is offering them and in this Article, We will share with you the top 10 shaving machines you can find on Amazon.com.
Best shaving machines you can find on Amazon
few basic factors that separate good electric shavers from the best electric shavers:
Closeness – Logically if the shaving machine doesn't shave close Enough you will not be satisfied with it.
Comfort and Convenience – You're hoping that buying this product will make your life easier, not to make it harder.
Speed – Look for CMA (cycles per minute) and know that what takes you 10 minutes with a manual blade, should take you 2-3 with an electric razor.
Battery Life – You should expect 50 to 60 minutes of cordless shaving with modern models.
Durability – The longer the electric shaver lasts, the more you can justify the price.
Our list for the Top 10 Shaving Machines is built according to Experience and customers reviews.
1- 
Philips Norelco Multigroom Series 3000, 13 attachments, FFP, MG3750 
The first Shaving Machine in our list is Norelco Multigroom Series 3000.
This great Machine has more than 6000 Reviews on Amazon with an average rate of 4.1, it comes as 13 pieces, Beard and stubble trimming, precision trimmer allows exact placement for sharp lines, nose, ear trimmer to remove the unwanted hair.
with its DualCut technology that comes with 2x more self-sharpening blades. The steel blades sharpen themselves while you are shaving, resulting in blades that remain as sharp as new after more than 2 years of use.
The blades of this Machine are easy to be cleaned just by washing them with water.
Powered with a Lithium battery that could run up to 60 minutes and fully charged in 8 Hours.
If you are looking for Cheap Shaving Machine We recommend this one check the Price on Amazon.


2- Philips Norelco Electric Shaver 2100, S1560/81
This Electric Shaver from Philips Norelco offers you an easy and convenient shave for an affordable price. With its 4-direction Flex Heads, combined with a CloseCut Blade System, guarantee a smooth result.
After 8 hours of charging you can use it for almost 35 minutes that means around 14 shaves.
This machine comes with a pop-up trimmer, its perfect for mustache maintaining and to trim the sideburns.
one touch open allows you to easily clean the machine.
The price of this Machine is more expensive than the first one but its still affordable and 100% worth it. Check it on Amazon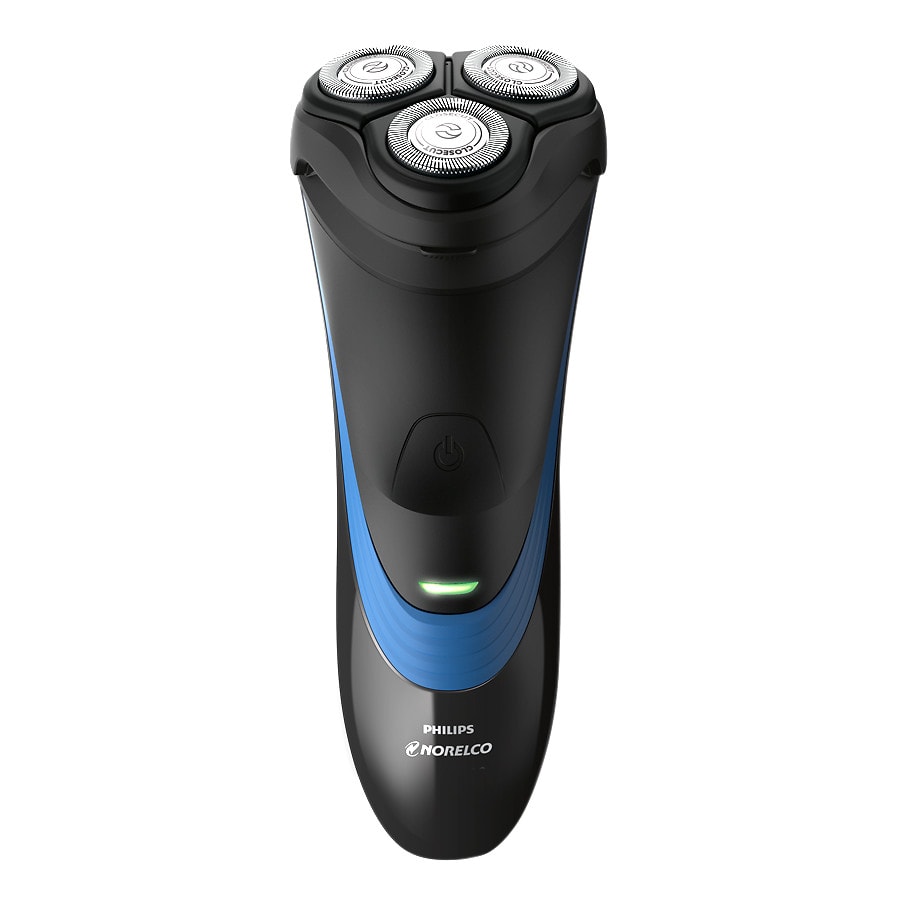 3- 
Braun Electric Shaver, Series 3 ProSkin 3040s Men's Electric Razor / Electric Foil Shaver, Rechargeable, Wet & Dry, Blue.
this is a fast shaving machine thanks to its triple action system 2x SensoFoil, Middle trimmer.
The Series 3 ProSkin can be used with water, foam or gel for even better gliding and a smoother skin feeling and good to mention that it is 100% waterproof. 
comes with 2x powerful rechargeable Ni-MH batteries fully charged in one hour and that will guarantee 45 minutes of shaving. 5 minutes charge more than enough for one shave. The LED display notifies you when your Machine needs charging.
4-SweetLF 3D Rechargeable 100% Waterproof IPX7 Electric Shaver Wet & Dry Rotary Shavers for Men Electric Shaving Razors with Pop-up Trimmer, Blue
This Shaving machine is perfect to be used while you are traveling or going out of your house for a period of time when it's fully charged it can shave up to 120 minutes "around 30 shaves" which is more than the 3 machines we mentioned above. it needs only one hour to be fully charged, there is also a visible 5 levels battery remaining indicator which allows you to know exactly how much power you have till you charge it.
The 3D rotary shaver with 4 direction floating heads automatically adapts with your face and neck, to provide comfortable and close shave every time you use it.
One Touch to Open Skin-friendly pop-up Trimmer – you can use it to trim your beard, sideburns, mustache and any facial hairstyle. 
The IPX7 body is waterproof and allows you to use the electric shaver whether wet or dry you can even use it in the shower. use it with shaving foam or shaving gel for a better shaving experience.
even with the high performance, the motor of this machine is providing its quiet and not noisy.
Check it on Amazon


5- 
Panasonic Electric Shaver and Trimmer for Men, ES-LV95-S ARC5, Wet/Dry with 5 Blades and Flexible Pivoting Head, Includes Premium Automatic Clean & Charge Station 
The Panasonic ARC5 men's electric shaver comes with a five ultra-sharp precision-honed 30° Nanotech blades and its ultra-thin ARC foil follow facial contours to provide a quick, close and comfortable shave. The charging time is 60 minutes.
This Panasonic shaver is equipped with a linear motor which delivers 14,000 cuts per minute (70,000 crosscutting actions per minute) and maintains peak power up to the end of every battery charge.
Built-in pop-up Trimmer – you can use it to trim your beard, sideburns, mustache and any facial hairstyle. 
Active Shave Sensor Technology
As you shave, the electric razor's advanced sensors detect differences in beard density. Power flow is adjusted automatically to accelerate where your beard is thickest, and soften where it's not.
this Machine is the best on this list.